The Sunday 4th December played host for the inaugural
Willspeed Grand Prix at the 1066 Racing venue in Hastings, East Sussex. A 2wd only single day event.
1066 Racing completed a fantastic job presenting a worlds standard 30mx18m EOS Carpet Track dressed in WS blue features, Banners and decals not only looking fantastic with challenging obstacles connecting high and low speed sections the layout a delight to drive linking the sections required to deliver a competitive lap time.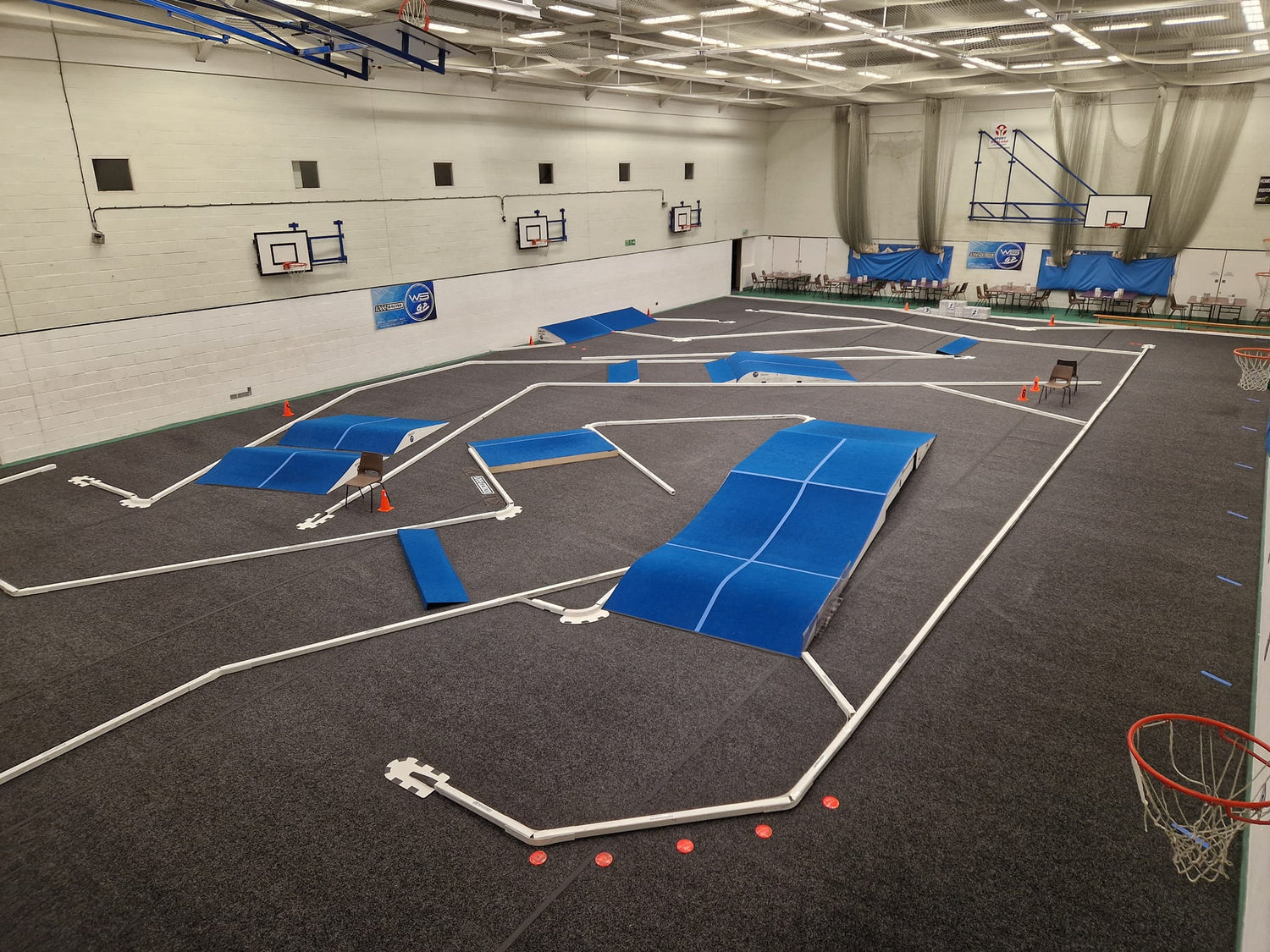 Willspeed manufactured billet aluminium winners medals with event specific engraved details (dual use as camber gauges) for top 3 in all finals, it was all to race for!
These medals were also presented all juniors racers whom attended the event.

For the one off event the Willspeed and 1066 Racing teams developed an adapted format for the singular event.
The format consisted of 3 round by round 5-minute qualifiers with the best seeding into 1 semi-final for all. The top 8 qualify directly into the A final with the remaining finals containing 10 cars with the top 2 bumping into the next final. 3 leg finals then followed for all racers.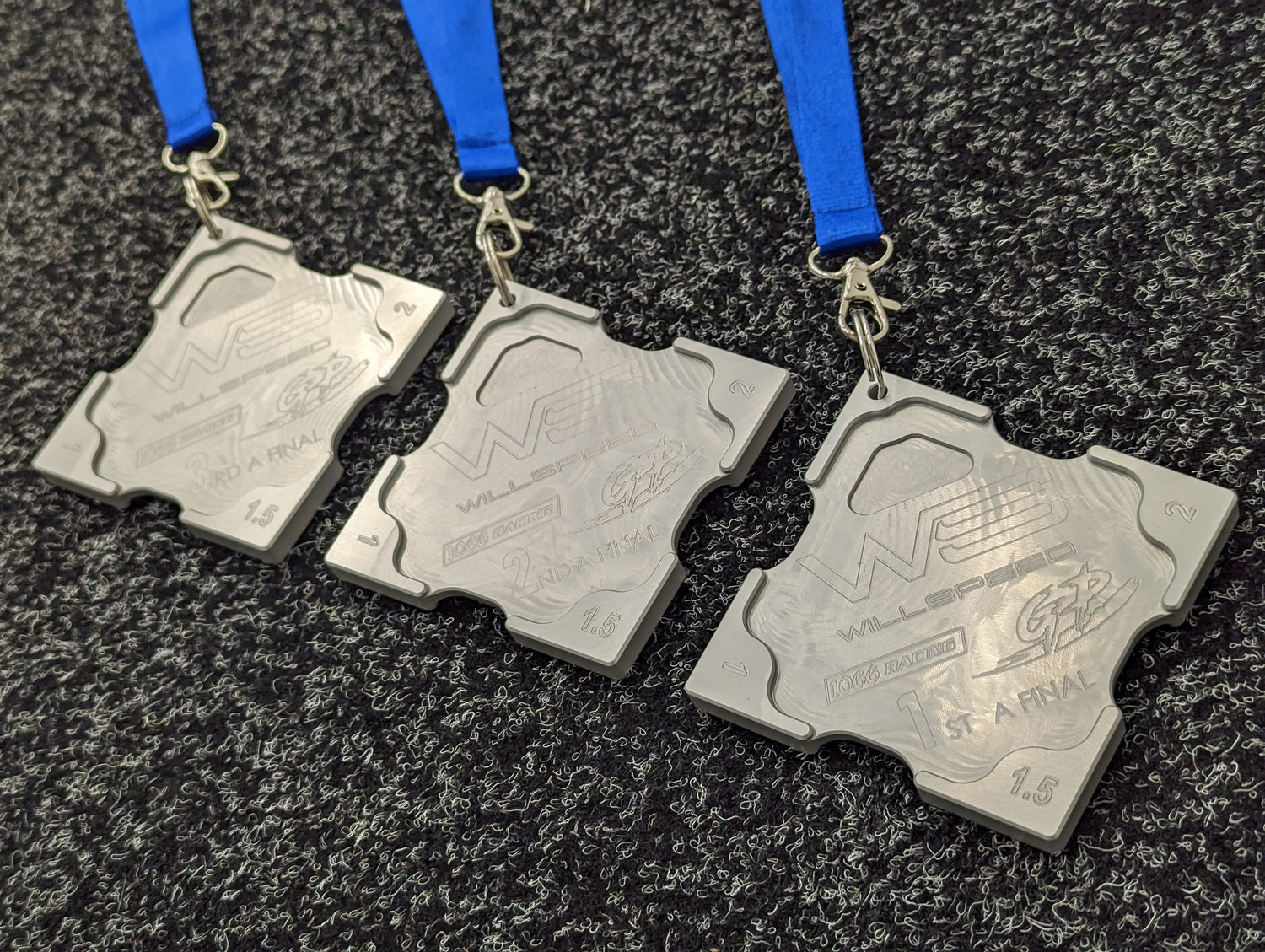 Qualifying began and it was immediate those top 8 places to qualify directly into the A final was going to be a tight and difficult contest.
After 3 rounds of qualifying it was Ed Kerry (Serpent) whom took TQ taking the number one spot in the A Semi, Ed looking super comfortable from out the blocks he delivered consistent and fast paced times. Completing the top 3 was Matthew Peters (Xray) and Kyle Moon (Willspeed). Qualifying 8th taking that last main spot was Will Johnson (Willspeed) just ahead of Demetri Panayides (Willspeed) whom would come to fight it out in the B Semi with Roger Tugwood (Willspeed) and Carl Perryman (Willspeed).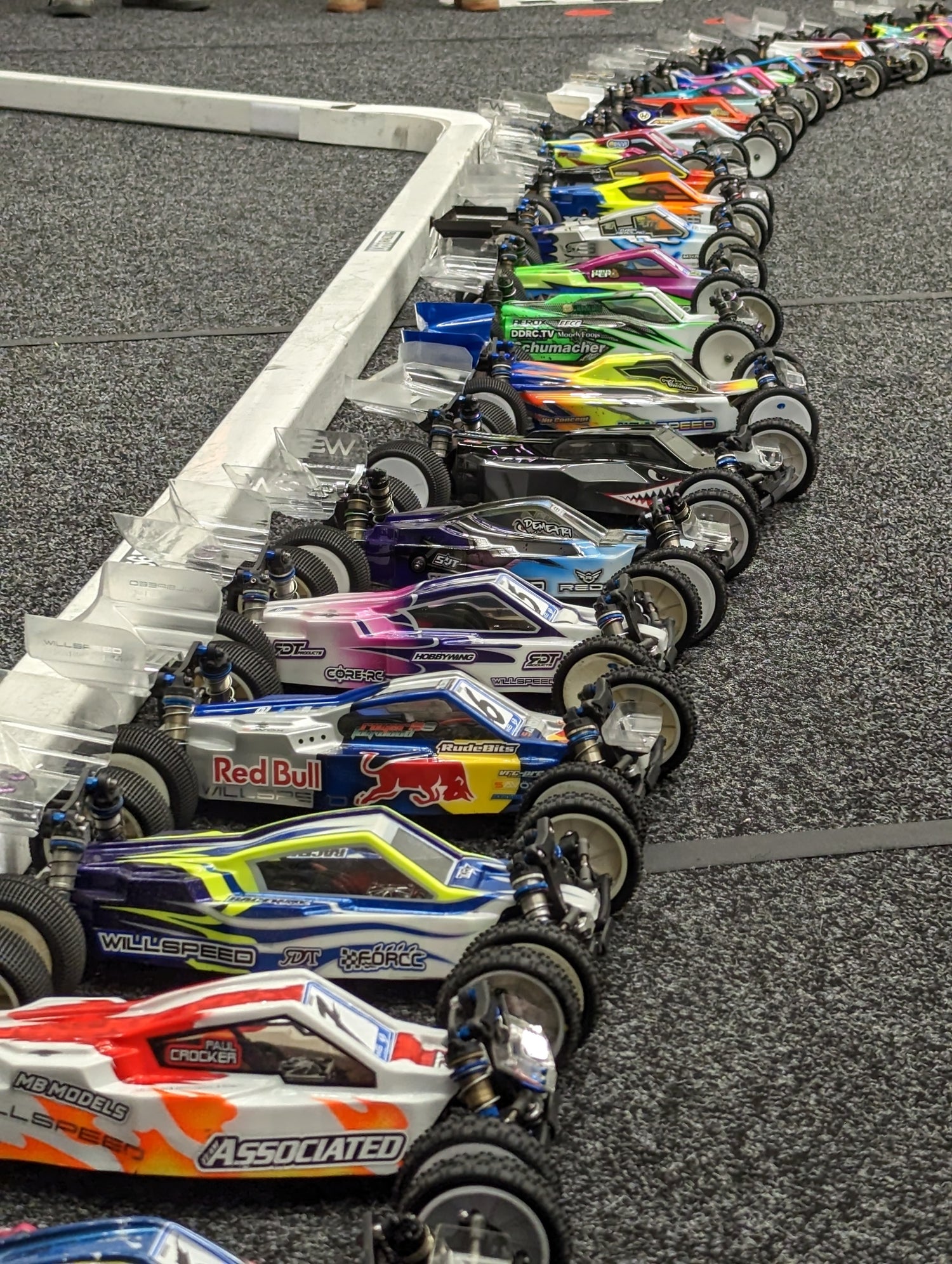 With the opportunity to bump into the next final spectators lined at the track edges to cheer their friends and team mates on into the and 2 bump up spots. The bump up element definitely adds an exciting and different dynamic to the race day. The B semi final was a spectacular race with Roger Tugwood (Willspeed) taking
the early lead following an error from pole man Demetri Panayides with Carl Perryman moving up to the 2 spot.
Roger continued to lead the main until an unfortunate error which let Demetri and Carl again fill the 1 and 2 spots. A fierce contest with cars nose to tail it was a credit to the 3 drivers for their commitment to a fair race with no contact up to the very end. Roger was unfortunately able to make the pass on Carl despite some really competitive lap times it was Demetri and Carl whom would line up 9 and 10 in the 3 leg A finals. The A Semi Final ran with drivers competing for their 3 leg final start positions. It was again Ed Kerry (Serpent) who lead with a strong drive to seal the number 1 spot. Matthew and Kyle also maintain their 2 and 3 positions.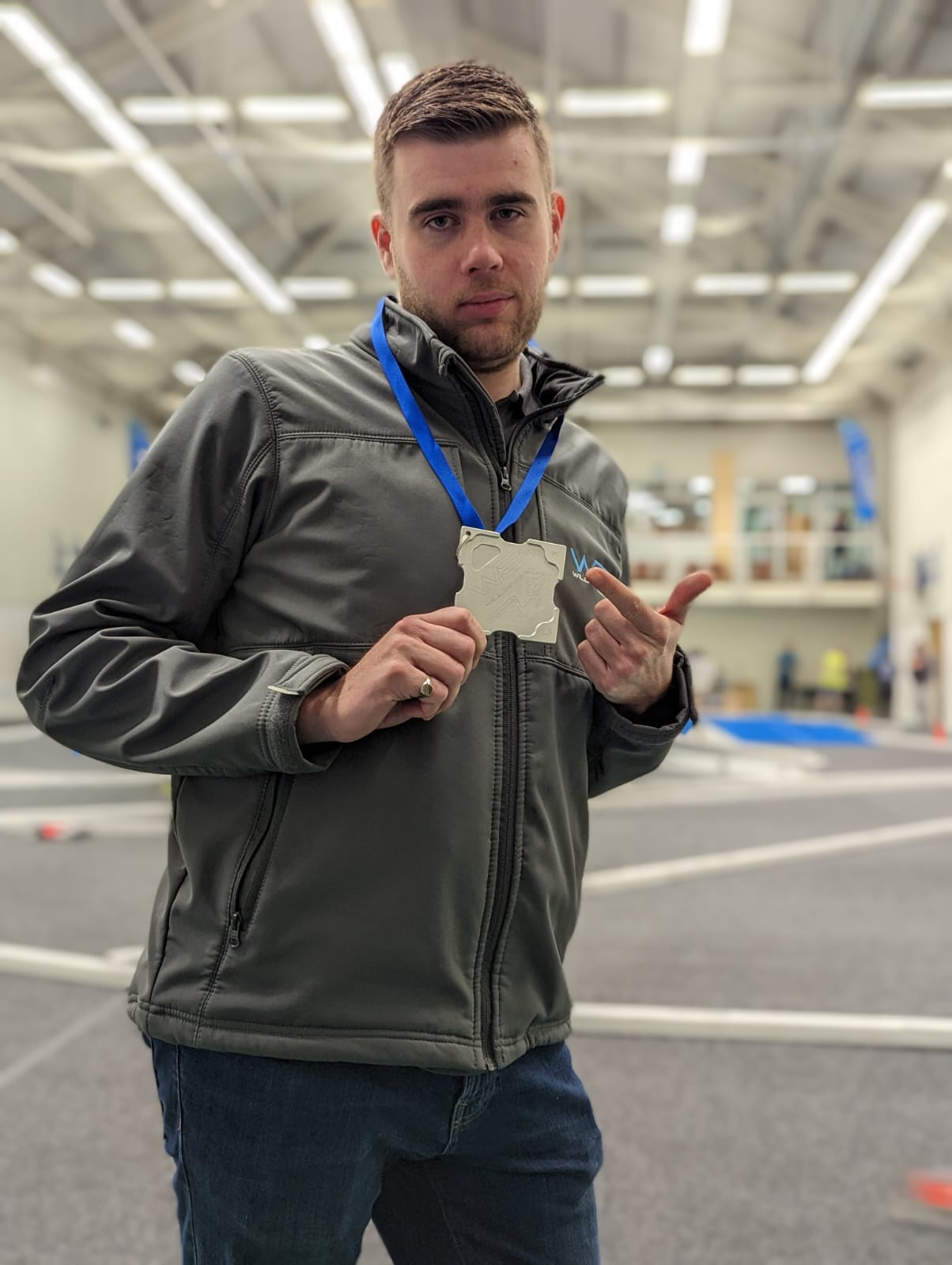 There was a short break between the Semi Final and Finals where a concours competition was held on track to select the three best looking buggies.
FF Racings own junior Ruben Russell (TLR) was selected as head judge where he selected the 3rd, 2nd and 1st places where the winning drivers/buggies were presented each with preproduction Willspeed Wings.

The results of the concourse were -
1. Demetri Panayides (Willspeed/Gav Grafix)
2. Rob Andrews (Willspeed/Andy's Airworks)
3. Richmond Rogers (Willspeed/Gav Grafix)

Finals were next to conclude the days racing it was all to play for with 3 legs for every final.
Roger Tugwood (Willspeed) would complete the day on a high securing the B main win in the first 2 legs.

A final leg 1 Ed completed a flag to flag victory with Matthew dropping into the pack after an early error. Kyle unfortunately suffering a mechanical with a spur gear failure. It was Luke Mills (Schumacher) whom took the 2nd spot followed by Richmond Rogers (Willspeed) taking 3rd.

A final leg 2 was a tight contest between Ed and Matthew nose to tail throughout the 5 minutes Matthew was able to make a last lap pass to secure A taking it to a deciding leg. Yasir Mughal (Yokomo) completed the leg 2 top 3.

A final leg 3 it was Ed again whom was able to control the race to take the final leg and overall win, completing the top 3 Matthew Peters and Kyle Moon, the three drivers providing a racing spectacle as spectators viewed on the drivers whom all finished with 0.7 second covering the finishing times.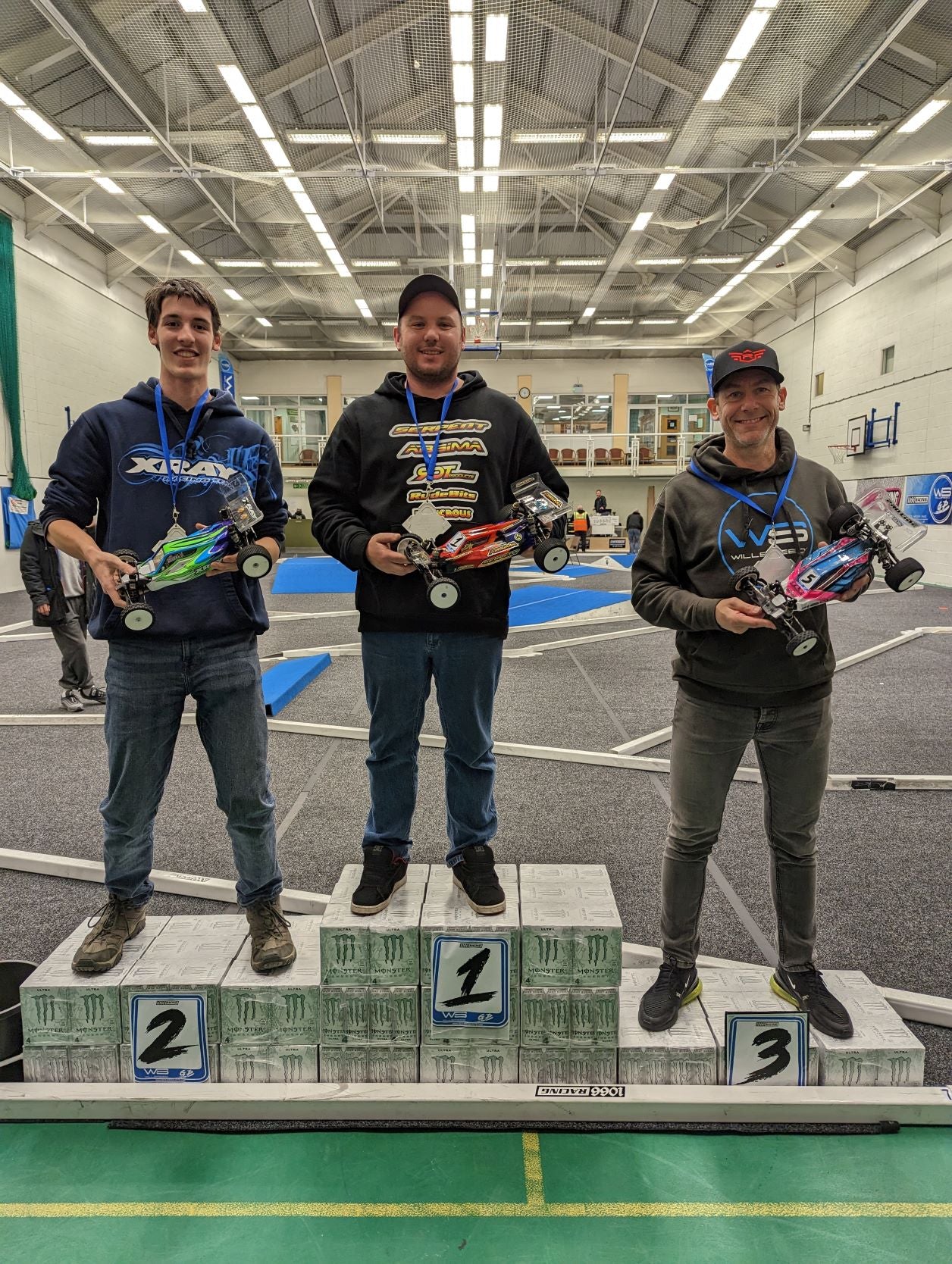 Congratulations to Ed Kerry to securing the first Willspeed GP and a big thank you for the 1066 Racing club and officials for their efforts to host and present a fantastic event.
A day enjoyed by all plans are certainly in progress for the Willspeed GP '23!

Meeting Results as follows -
A FINAL
1. Ed Kerry (Serpent)
2. Matthew Peters (Xray)
3. Richmond Rogers (Willspeed)
4. Yasir Mughal (Yokomo)
5. Luke Mills (Schumacher)
6. Kyle Moon (Willspeed)
7. Demetri Panayides (Willspeed)
8. Will Johnson (Willspeed)
9. Ross Nicholson (Schumacher)
10. Carl Perryman (Willspeed)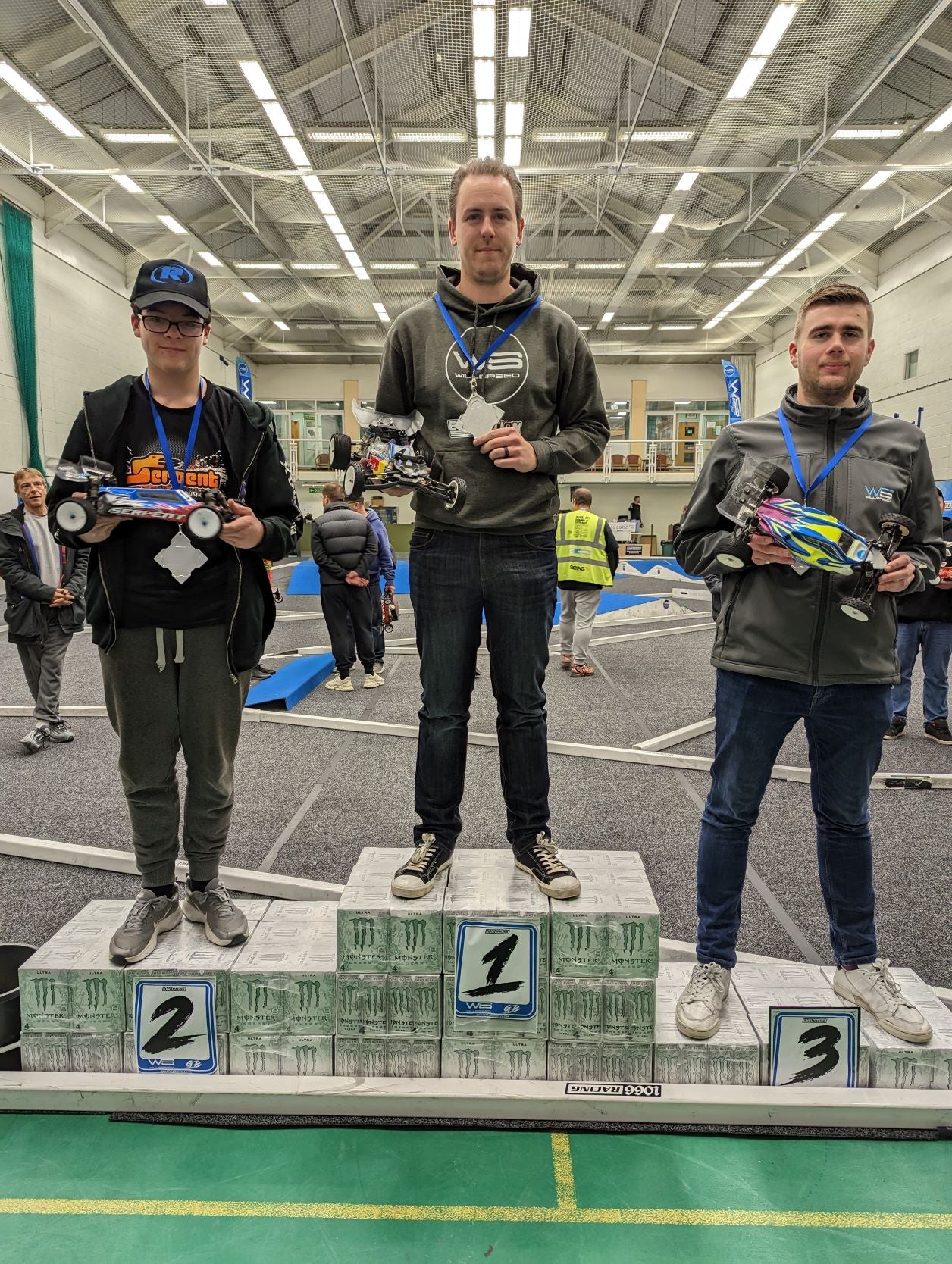 B FINAL
1. Roger Tugwood (Willspeed)
2. Tommy Dale (Serpent)
3. Stephen Wilkinson (Willspeed)
4. Hattie Tames (Xray)
5. Mark Smith (Associated)
6. Oliver Nattress (Kyosho)
7. Cayden Stenhouse (HB)
8. Ben Winters (Associated)
9. John Barnes (Willspeed)
10. Lee Hedges (Willspeed)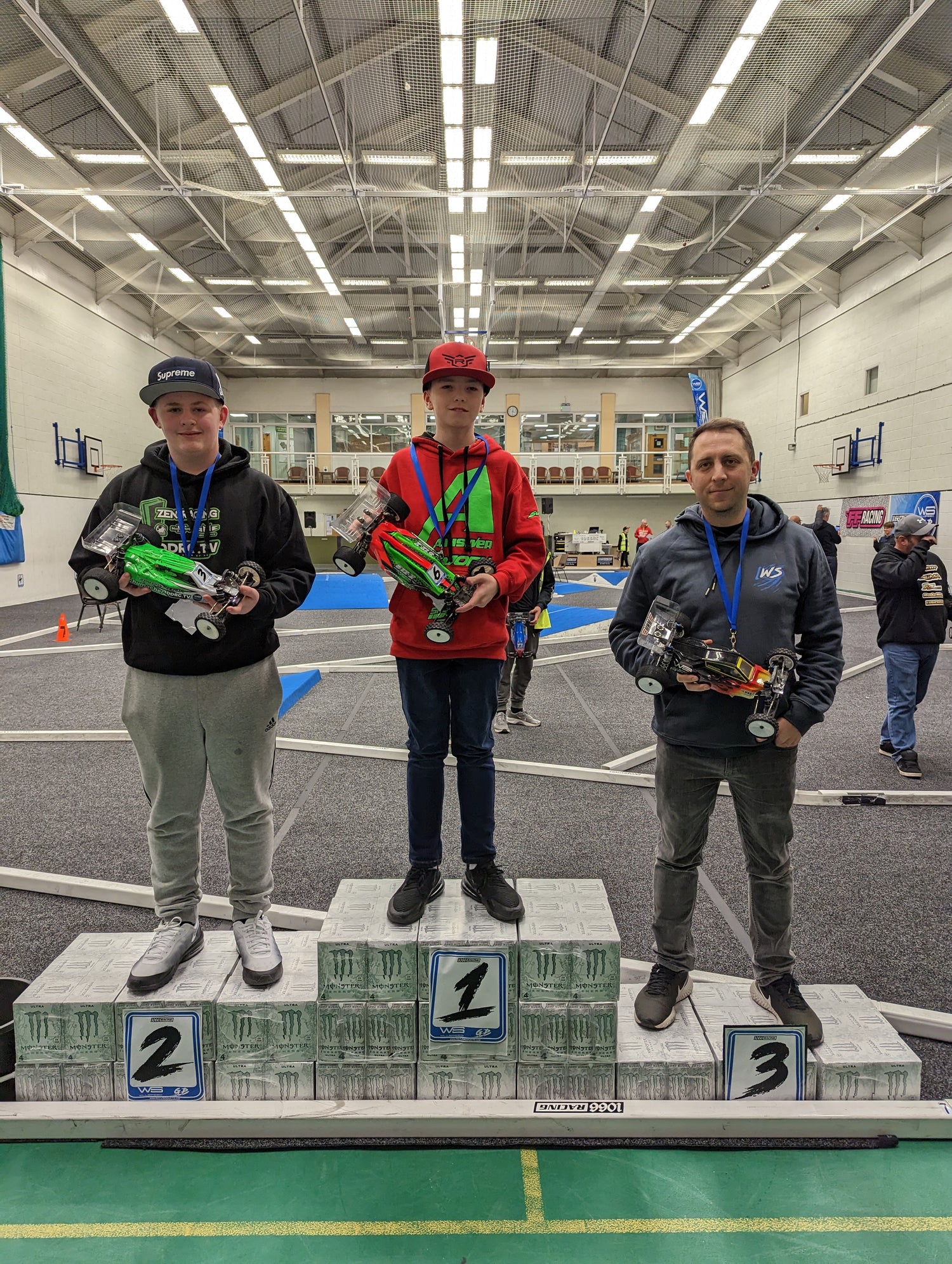 C FINAL
1. Billy Grindley (Sworks)
2. Charlie Colby (Schumacher)
3. Rob Andrews (Willspeed)
4. Chris Smith (Kyosho)
5. Christopher Ellis (Willspeed)
6. Paul Crocker (Willspeed)
7. Nick Harwood (Serpent)
8. Darren Lewis (Serpent)
9. Chris James (Yokomo)
10. Freddie Russell (TLR)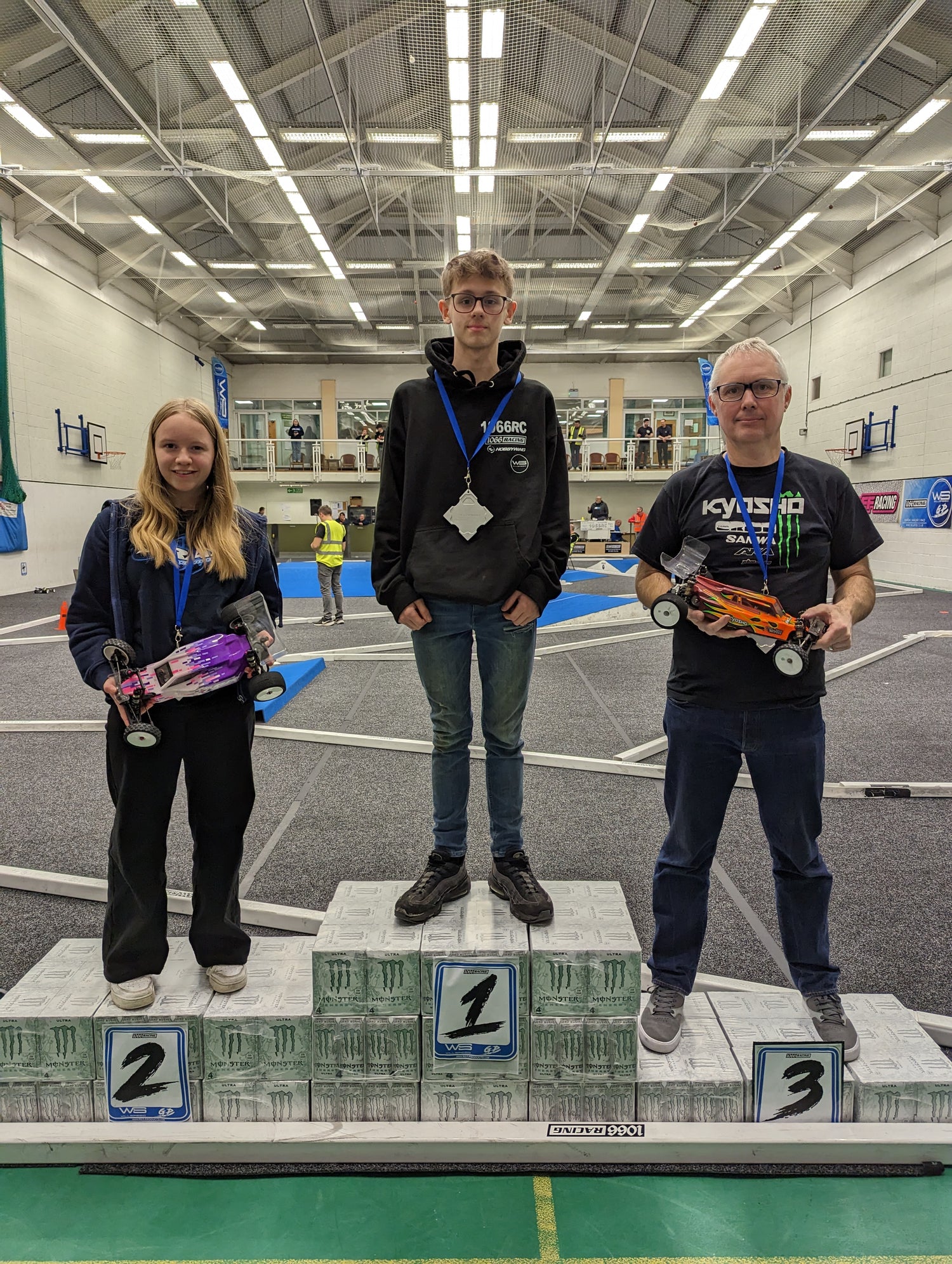 D FINAL
1. Oliver Langley (Willspeed)
2. Evie Tames (Xray)
3. Duncan Nattress (Kyosho)
4. Paul Tapsell (Willspeed)
5. Michael Skates (Willspeed)
6. Richard Andrews (Willspeed)
7. Jordan Coleman (Schumacher)
8. Mark Headling (Willspeed)
9. Niall Cochran (Willspeed)
10. Richard Baker (Associated)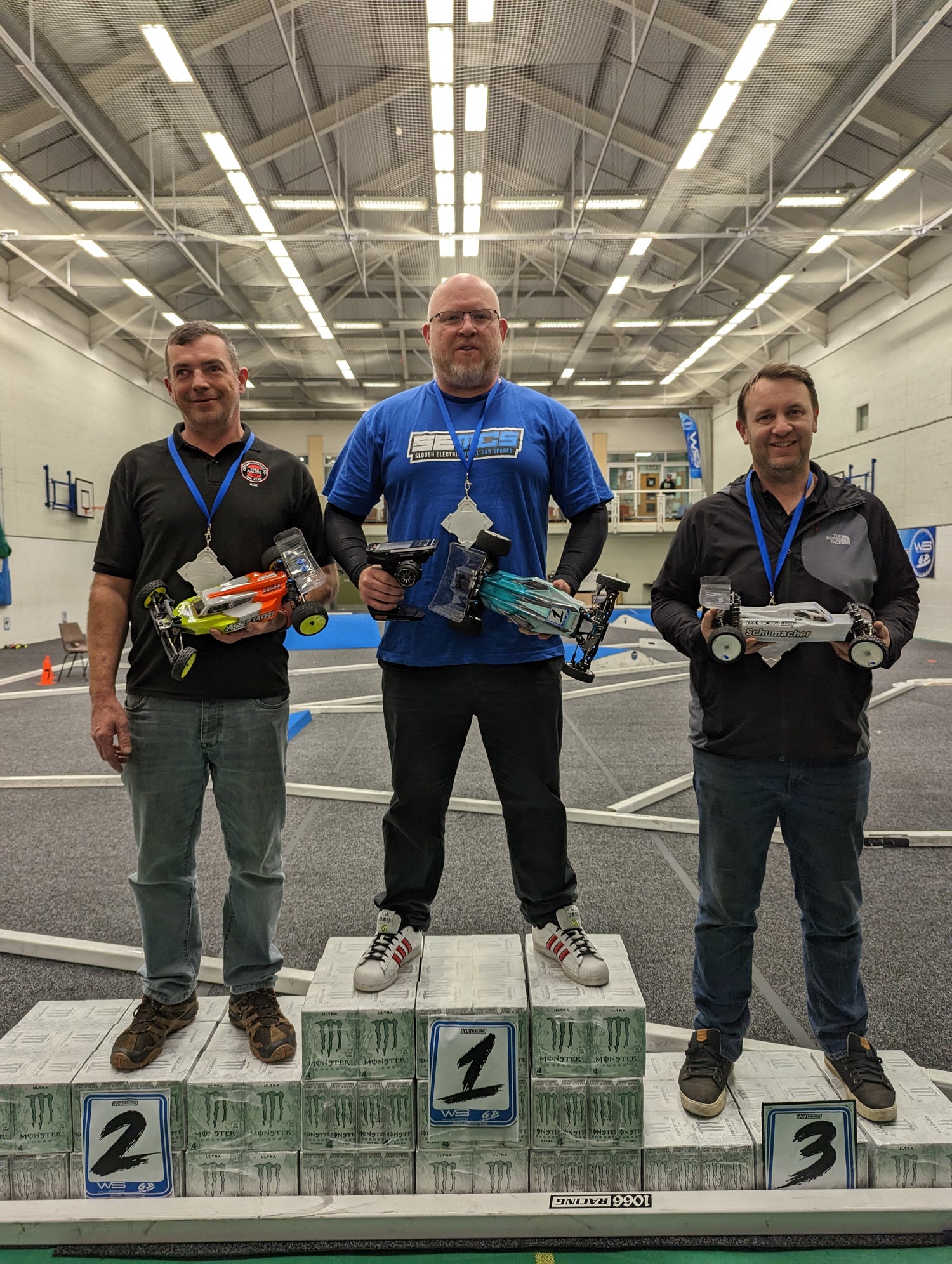 E FINAL
1. Paul Wood (Willspeed)            
2. Rob Monks (Associated)
3. Stuart Colby (Schuamcher)
4. Bruce Hayward
5. Andrew Coley (Associated)
6. Joshua Mitchell           
7. Simon Cleaver
8. Jodie Moon (Willspeed)
9. Andy Creasey
10. Tom French (Willspeed)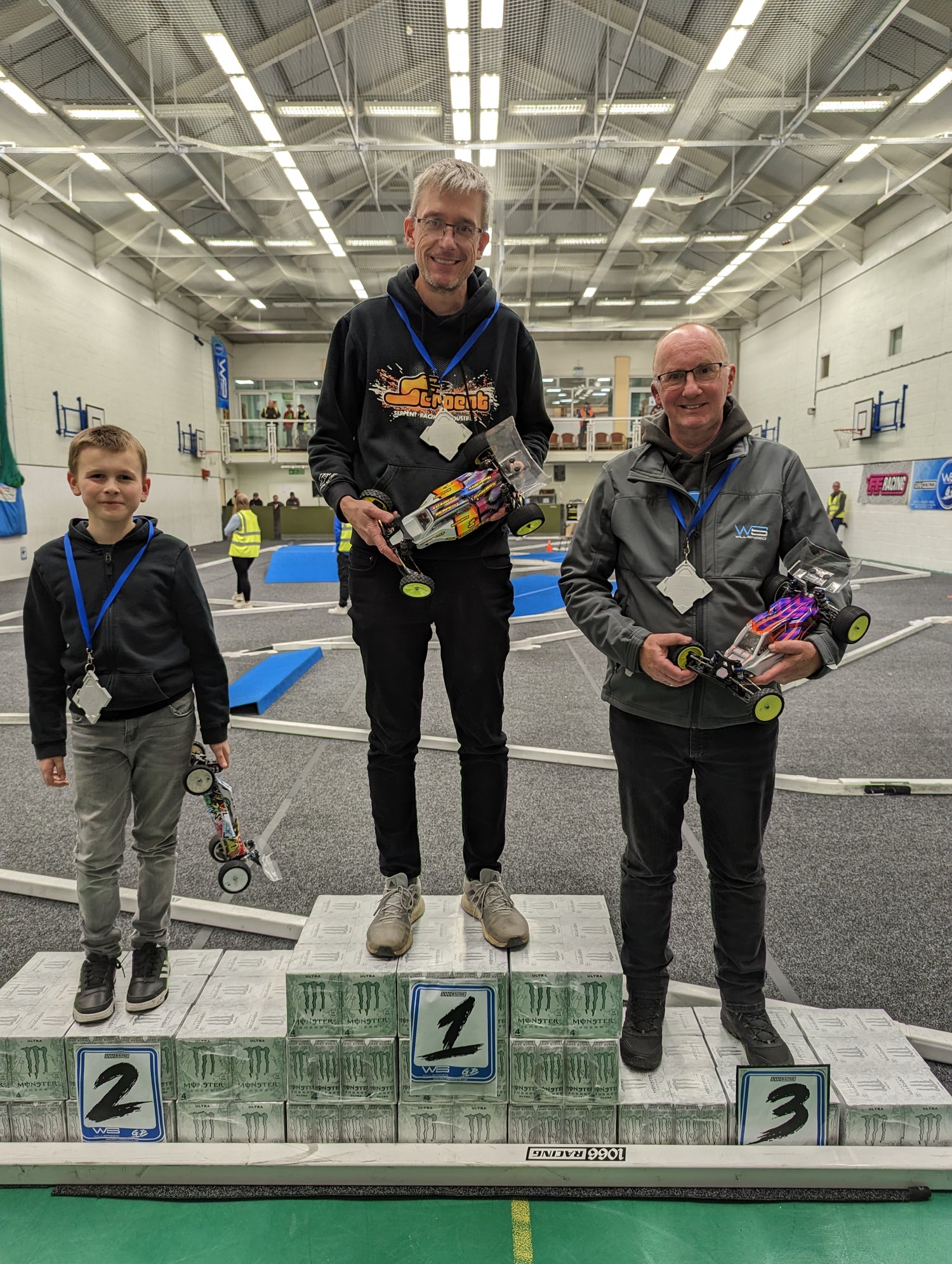 F FINAL
1. Kane Wood (Serpent)
2. James Proctor (Associated)
3. Andy Johnson (Willspeed)
4. Kian Peszel (Willspeed)
5. Tom Prudden
6. James Crawshaw
7. Ruben Russell (TLR)
8. Lloyd Proctor
9. Matthew Baker
10. Chris Langley (Willspeed)
11. Chris Peszel (Willspeed)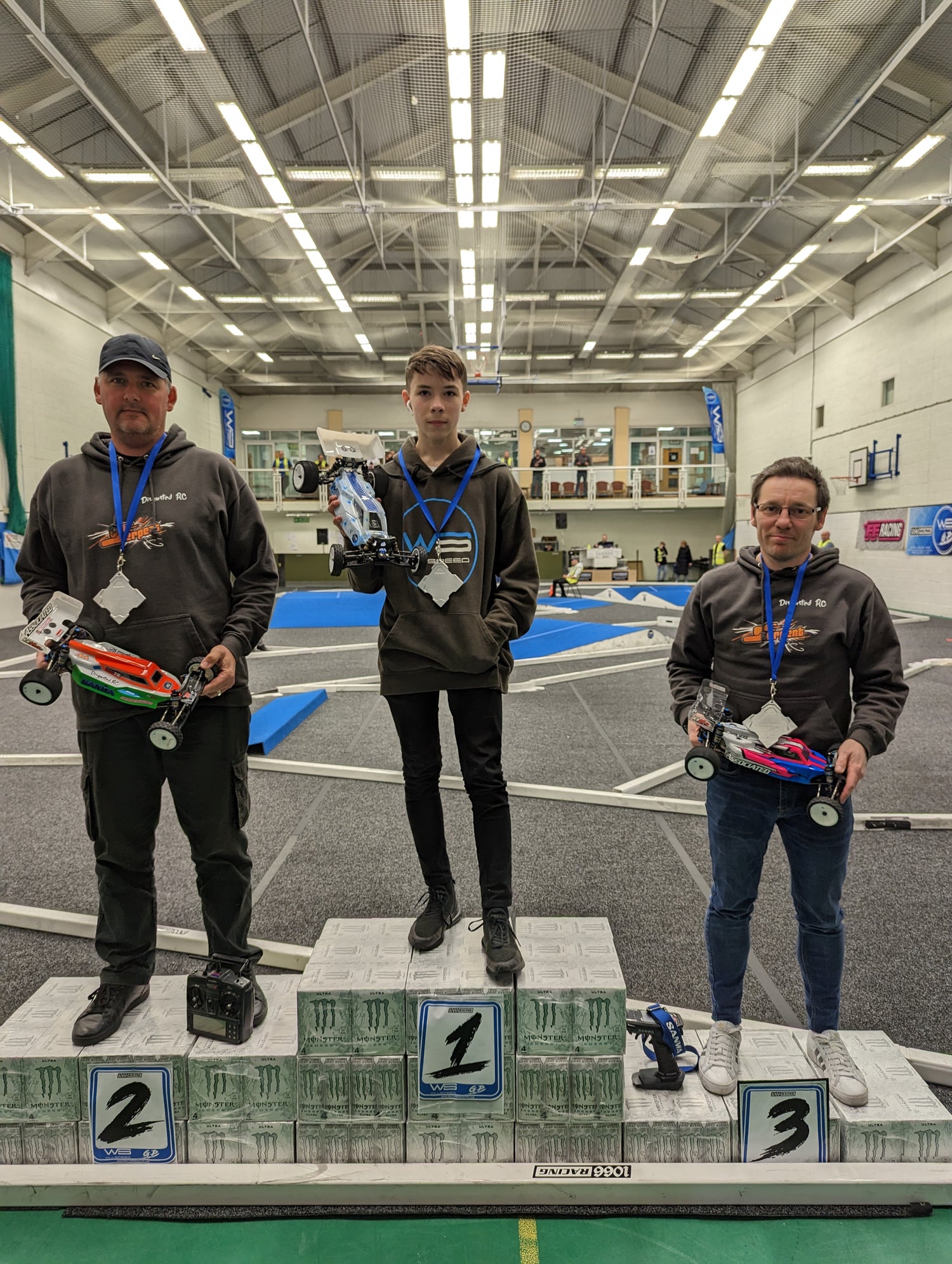 G FINAL
1. Tristan Peszel (Willspeed)
2. Steve Smith
3. Jon Melton
4. Andy Masters
5. Ethan Taylor
6. James Cann
7. Oliver Rose
8. Glen Taylor
9. Dan Smith